The concept behind Orange Bonds lies in their role as a sustainable debt instrument specifically targeting gender empowerment and equity.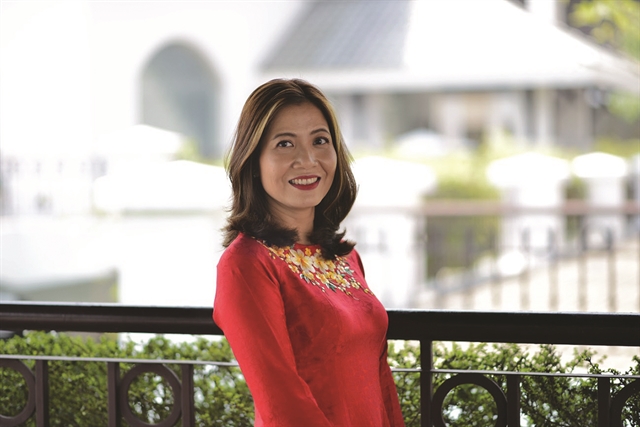 Kathy-Thủy Nguyễn, Impact Investment Exchange (IIX) Country Director in Việt Nam
Orange Bond is a new concept in Việt Nam. Việt Nam News reporter Mai Hương talks to Kathy-Thủy Nguyễn, Impact Investment Exchange (IIX) Country Director in Việt Nam, about this type of impact investment and how it can contribute to sustainable financing development.
What is the concept behind Orange Bonds, and how do they differ from other types of bonds, particularly Green Bonds?
The concept behind Orange Bonds lies in their role as a sustainable debt instrument specifically targeting gender empowerment and equity. Named after the fifth United Nations Sustainable Development Goal (SDG 5) on Gender Equality, symbolised by the colour orange, these bonds aim to address gender disparities, promote equality and simultaneously drive climate action.
One distinguishing feature of Orange Bonds is their adherence to established market standards, such as the ICMA GSSS Principles, which sets them apart from other socially responsible bond types. While they may share similarities with "Gender Bonds" or Social Bonds, Orange Bonds carve a distinct path by positioning themselves as a cross-cutting asset class uniquely focused on gender-related sustainability initiatives.
Comparing Orange Bonds to Green Bonds reveals their differing primary objectives. Green Bonds primarily targets environmental sustainability, while Orange Bonds concentrate on gender empowerment. However, these distinctions are flexible.
An intersection exists between the two when initiatives financed by Orange Bonds prominently feature women in climate-related projects. For example, supporting female-led climate-resilient agricultural practices or empowering women in the renewable energy sector can be funded by Orange Bonds, effectively intertwining gender inclusivity with environmental sustainability.
This convergence challenges the traditional boundaries between Green and Orange Bonds, highlighting the potential overlap when projects prioritise environmental sustainability and gender inclusivity. It emphasises the interconnected nature of sustainability, showcasing how social and ecological facets often intertwine, necessitating comprehensive and holistic solutions for more effective impact.
How do you anticipate investor demand evolving for sustainable financial instruments like Orange Bonds? How do you see the potential for the Orange Bond market developing in Việt Nam and which specific sectors or industries will likely draw Orange Bond issues?
The evolution of investor demand for sustainable financial instruments such as Orange Bonds will intensify, driven by a global upsurge in awareness regarding gender disparities and the consequential economic advantages associated with achieving gender equality. Reports from Moody's indicate a significant increase in sustainable bonds targeting gender equality projects, showing a growing demand that arises from ethical motivations and the acknowledgment that sustainable practices contribute to long-term profitability and risk mitigation.
In the context of Việt Nam, a nation that has made notable progress in gender equality in recent decades, the potential for the Orange Bond market is substantial. Việt Nam's rapidly expanding economy, coupled with its commitment to the United Nations Sustainable Development Goals (SDGs), positions it favourably for the introduction and expansion of innovative financial instruments such as Orange Bonds.
Various sectors in Việt Nam could leverage Orange Bonds to foster gender empowerment, such as textile and garment, agriculture, inclusive finance and technology. Additionally, institutions are crucial in cultivating the country's comprehensive ecosystem.
Initiatives like the Impact Investment Readiness Vietnam introduced by IIX in collaboration with Global Affairs Canada (GAC) serve as valuable contributions. This programme will train and support Social Impact Businesses (SIBs) and women-led enterprises in Việt Nam, enabling them to attract impact investments.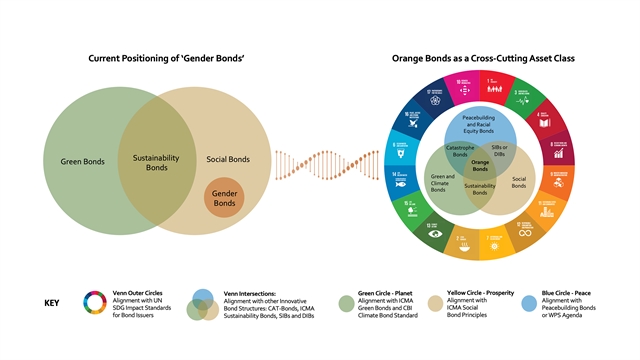 Cross-cutting nature of Orange Bonds and harmonization with industry standards. — Photo courtesy of IIX
With Việt Nam standing at a crossroads in sustainable financing, how can the Orange Bonds or initiatives like the Orange Movement propel the adoption of sustainable finance instruments?
At this pivotal point in Việt Nam's sustainable financing landscape, the strategic use of Orange Bonds and initiatives such as the Orange Movement™ stands to significantly accelerate the adoption of sustainable finance instruments.
Việt Nam has demonstrated considerable progress in green bond issuance, securing the second position within the Association of Southeast Asian Nations (ASEAN) in 2022. A notable milestone was BIDV's groundbreaking issuance of VNĐ2.5 trillion (US$104 million) in bonds dedicated to environmental projects, marking the country's inaugural green bond issuance.
Amid this progress, the Orange Movement™ and its associated financial instruments are critical. The Orange Movement™ is advancing gender equality and sustainability by implementing strategies that involve launching and validating Orange Bonds and mobilising capital for diverse and inclusive initiatives. These Orange Bonds, uniquely crafted to simultaneously promote gender equality and support sustainable development projects, are fundamental in advancing Việt Nam towards a more inclusive and environmentally conscious financial framework. Notably, they attract a diverse array of investors, appealing to those interested in gender-focused investments and those prioritizing environmental sustainability.
The distinct power of Orange Bonds lies in its capacity to champion initiatives that seamlessly integrate gender inclusivity with overarching sustainability goals. As Việt Nam is committed to addressing gender disparities and environmental challenges, instruments like Orange Bonds emerge as pivotal catalysts.
Not only do they align with the nation's strategic goals, but they also hold the promise of effecting tangible transformation in Việt Nam's evolving sustainable finance ecosystem. By harmonising gender equality and environmental sustainability, these instruments serve as a bridge to amplify Việt Nam's commitment to a more inclusive and ecologically responsible financial future.
Are there opportunities for businesses and investors to collaborate on sustainable finance initiatives?
Indeed, there are remarkable opportunities for businesses and investors to collaboratively engage in sustainable finance initiatives, exemplified by initiatives such as the IIX Women's Livelihood Bond™ Series (WLB Series).
The success of the WLB Series, mobilising a substantial $128 million with an impeccable track record of zero defaults, stands as a testament to this potential. This initiative has had a positive impact on over 1.3 million women across the Asia-Pacific and Africa regions.
Additionally, businesses associated with this bond series have experienced accelerated growth and many benefits by participating in this groundbreaking initiative. Notably, a social enterprise from Việt Nam engaged in the first Women's Livelihood Bond™ issuance, providing female workers with access to essential products and services, thereby enhancing their quality of life.
Of particular note is the $50 million IIX Women's Livelihood Bond™ 5, a multi-sector and multi-country bond recognized as the first sustainable debt security in the market issued in compliance with the Orange Bond Principles. This bond aims to empower around 300,000 women and girls across Asia and Africa.
Proceeds from WLB5 are supporting high-impact enterprises in Cambodia, India, Indonesia, Kenya and the Philippines across various sectors, such as microfinance, SME lending, clean energy, sustainable agriculture, water and sanitation, and affordable housing.
Looking towards the future, the upcoming issuance of WLB6 in Q4 2023 further emphasises the collaborative opportunities available, continuing the mission of the Orange Movement™ to mobilise $10 billion by 2030. With a targeted size of $100 million, this bond will positively impact 500,000 women in five countries, offering a substantial opportunity for businesses and investors to converge on impactful, sustainable finance projects. — VNS